It's hard to imagine anyone, let alone an entire city, falling head over heels in love with a 3rd place team.  Mind you I'm not simply referring to the fans that saw them play, but fans for generations to come.  If you find this hard to fathom, you're either not from Cincinnati or you have never spent part of a baseball season there.  If you had, you'd know almost in an instant I'm referring the 1956 Cincinnati Redleg ball club.
OK, maybe I was a bit too dramatic about this being a 3rd place team (finished two games out in the final days of the season), but their popularity, even today cannot be overstated.  There was certainly much to like with cozy Crosley Field and those vest style uniforms that gave Ted Klusewski's massive arms some well-deserved breathing room.  While the 1990s Nike commercial made it seem like news that "chicks dig the long ball" this was hardly anything revolutionary to the women who visited Findlay and Western when Ladies Days and Ladies Nights were regularly scheduled events (oh, and they came out on plenty of other occasions as well). 
While 1956 may not have been a year of success in the Queen City pennant wise, it certainly was the year of excess. Excess home runs (221 of them, tying the 1947 New York Giant major league record), excess fans (1,125,128 of them; the first time Cincinnati topped the one million mark), and an excess of team spirit (Redleg fans stuffed the ballot box voting in five of the nine starters and plenty of players on the All Star roster as reserves).  So yes, the 1956 ball club was and is a big deal in Cincinnati.
Even with all the hoopla associated this year with Pete Rose's induction into the Cincinnati Reds Hall of Fame and the retiring of his number #14, the organization still made time to honor the 1956 ball club during the 2016 season. In order to make this effort a success the Reds Museum reached out to the MEARS Museum for the loan of various artifacts.  These included: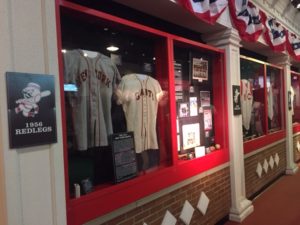 Game Used Bats
Frank Robinson (H&B)
Ted Kluszewski (H&B)
Ted Kluszewski (Adirondack)
Gus Bell (H&B)
Wally Post (H&B)
Roy McMillian (Adirondack)
Ed Bailey (H&B)
Smoky Burgess (H&B)
George Crowe (H&B)
Ray Jablonski (H&B)
Birdie Tebetts H&B)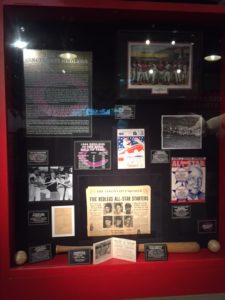 Uniform Items
1947 New York Giants Home Jersey
1947 New York Giants Road Jersey
1955 Roy McMillian Home Jersey
1956 Curt Flood Home Jersey
1956 Rocky Bridges Road Jersey
1956 Herschel Freeman Jacket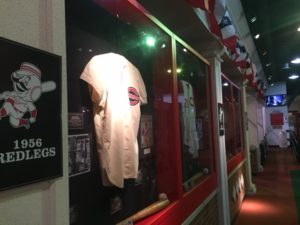 Baseball Miscellaneous
1947 NY Giants 221 HR Ring (Bill Rigney)
1956 Cincinnati Redlegs 221 HR Ring (Smoky Burgess)
1955 Colliers Magazine (Roy McMillan article)
1956 Parade Magazine (Wally Post)
1956 All Star Game Ballot
1956 All Star Game Program
1956 Reds Shriners Game Post Card
1956 Home Run Press Releases (x2)
Period Wire Photographs of:
-Gus Bell pulling on Klu uniform fabric
-Gus Bell new batting helmet
-Gus Bell in 1956 McMillan uniform
-Tebbets, Klu and Frank Robinson
-Post, Klu, and Jablonski
-McMillan and Temple; Locker room
-Larry Jansen, Locker room
-Klu with Adirondack; 1956 All Star Game
-Klu, Mays, Snider, Musial, and Giles, 1956 ASG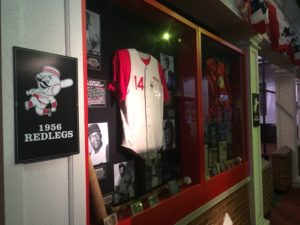 While we could have easily loaned other related artifacts, we had to balance this with our desire to leave a number of items on display for visitors the MEARS Museum to enjoy as well. So if you're traveling though the Midwest this summer, consider stops in either Cincinnati or Milwaukee and enjoy a look at baseball from years past.
Dave Grob
davegrob1@aol.com