I suspect that Fred Sington is hardly a household name today, but there was a time when tales of his athletic prowess graced the airwaves and the sports pages across the country. Sington was considered a bit of a rarity in his day,  a young Jewish man staring on the University of Alabama football team. You name it… Fred Sington did it… from classroom to locker room, from field to gym, from diamond to dais. To say the gifted Alabama tackle was a man for all seasons would be an understatement. You might call Sington a "heady" individual, particularly when you consider his Phi Beta Kappa standing in the classroom. At 6-2 and 215-pounds, Sington was a workhorse for coach Wallace Wade's Crimson Tide teams at the close of Southern football's Golden 20s. An outstanding student-athlete in the purest definition, Sington laid claim to virtually every academic and athletic award at Alabama while serving as president of the student body his senior year. Sington's competitive drive was apparent from the very start of his athletic career as he starred in football, baseball, basketball, and track.
By 1931, singer Rudy Vallée was a bona fide media sensation. His performances were invariably sold out and the screaming adoration of female fans would be repeated three decades later with the Beatles. He had appeared in his first feature film, Glorifying the American Girl, which was to launch a robust movie career over the next several decades. But radio was the medium Vallée dominated. As one of the first of the "crooners" the medium played to the strengths of his singing style and that fueled his overwhelming popularity. In 1928 he debuted his radio show, The Fleischmann Hour, with an estimated 200 million listeners. It was a live variety revue with various guests that became a predecessor to the modern television talk show. Vallée's show was popular among the college crowd and he played to the interests of his audience on his show. So when he chose to sing a tune about a football star he dedicated it one of the heroes of the 1931 Rose Bowl, Alabama's All-American tackle Fred Sington. The famed singer and the Sington had met during the Crimson Tide's trip west courtesy of former Alabama standout, Johnny Mack Brown, who had starred on the squad in the 1920s but had gone west pursuing a film career in Hollywood.
The song "Football Freddy" was written by Edgar Leslie and Con Conrad in 1930 and due to Vallee's performance it became a hit. And, as a result, Sington's fame spread well beyond the football field. Other performers committed the song to vinyl including Jack Purvis, Ted Wallace & his Campus Boys and the group Six Jumping Jacks whose version is probably the best known today. Despite the interest the song sparked in Alabama's Sington, the tale told in "Football Freddy" wasn't exactly an autobiographical match.  The lyrics focus far more on the player's romantic pursuits than his gridiron prowess. As one verse opines:
The women folks galore, They know how he can score, Especially when the lights are low Football Freddy, rugged and tan. Football Freddy, my collegiate man.
The tune also notes of Freddy; "he's not so good at school." That wasn't at all descriptive of the actual Fred Sington who was renowned for his academic excellence as indicated above.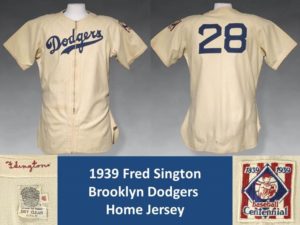 (UNIFORM FROM MEARS MUSEUM COLLECTION)
After graduation from Alabama, Sington played baseball for the hapless Washington Senators (1934-1937) and "Dem Bums" (Brooklyn Dodgers 1938-1939).  During World War II, Sington would rise to the rank of Lt. Commander in the United States Navy.  After the war, the Bama gridiron great became a respected Southeastern Conference official. From Phi Beta Kappa to All-America in 1930, to matinee idol, to major league ball player in Washingon and Brooklyn, Sington hardly just a "Bum".
Dave Grob
davegrob1@aol.com