While the MEARS Museum Collection is heavy on 20th century gamed used major league baseball uniforms, all the current displays feature non-game used items that add visual and historical context to the uniforms.  This is line with one of the tenants of the mission statement of the museum which is to "Stimulate interest in the hobby by showcasing memorabilia in ways that inspire others to collect what they enjoy and enjoy what they collect." Not only do we strive for variation in our artifacts, but equally important to us is the research we conduct on the items and their place in sports memorabilia history.
We recently added a wonderful and extremely rare 1952 Sylvania Leo Durocher piece to our collection; first a bit of basic information:
-Heavy cardboard
-Single sheet with intended center horizontal fold
-Outer dimensions are approximately 24" (W) x 36" (H)
-Condition assessed VG+/EX-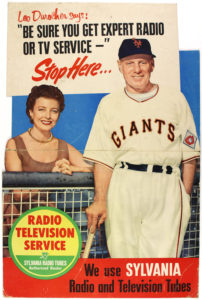 We know this piece is from 1952 based on information contained a series of Sylvania company pamphlets we have in our product archive (full originals and not photo copies). In January of 1952 Sylvania announced they were launching "The Most Expensive Campaign In Radio Parts History To Advertise Your Radio-TV Service." Their All Star lineup of celebrity endorsees included Jane Russell, June Taylor, Ann Blyth, and Leo Durocher (along with his wife Laraine Day).   Why was Sylvania jumping in with both feet, deep pockets, Hollywood Bombshells, and Leo the Lip?
According to data provided by the Radio Electronics Television Manufacturers Association (RETMA) in 1953, the annual output of television sets manufactured in the United States (at this time the world leader) was rising dramatically:
1947: 178,571
1948: 975,000
1949: 3,000,000
1950: 7,463,800
1951: 5,384,798
1952: 6,096,279
1953: 7,261,109
RETMA data also shows this for the percentage of American homes with at least one television:
1950: 9%
1951: 23.5%
1952: 34.2%
1953: 44.7%
1954: 55.7% (more American homes than not now had a television set)
I point out all of this to add context to the fact that by 1952, televisions were a growing and important part of life in the United States and radio was still seen as a viable form a family and individual entertainment.
Getting back to the Durocher piece, it was actually the premium level item in a much larger grouping provided to select Sylvania Dealers as part of their spring of 1952 advertising campaign kit. The kit would have included one of the large 24'x36' POS (point of sale/service) cardboard sign and a couple of 11"x26" window streamers featuring Durocher and Day, as well as a number of the post cards featuring Durocher (that you could chose to have your company information printed on).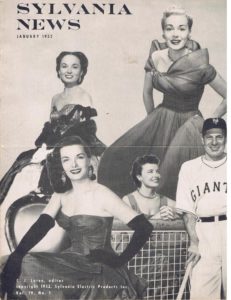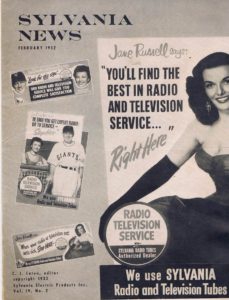 In addition to this, Sylvania would place a 1/3 page advertisement featuring Durocher and Day in:
-Life Magazine, 5 May 1952 edition
-Collier's Magazine, 24 May 1952 edition
-The Saturday Evening Post, 7 June 1952 edition
-Better Homes and Gardens, June 1952 edition
All of these were intended to coincide with the early part of the 1952 baseball season.   According to Sylvania, "That's a lot of advertising support for you to win more profits. Sylvania has planned the right help at the right time. Leo Durocher's boost at the beginning of the new baseball season will go a long way toward making your business a winner during the next two months."  
While I have no idea how much of a boost Sylvania dealers got from Durocher's presence, his presence was valued it what has become known as "The Golden Age of Television." During the 1950s and 1960s, Durocher appeared in a variety of television shows including: 
What's My Line
https://www.youtube.com/watch?v=6oqrF_insXg
The Munster's
https://www.youtube.com/watch?v=OKBpn13P5oQ
Mr. Ed
https://www.youtube.com/watch?v=Bm1sa0zhjiM
The Beverly Hillbillies
https://www.youtube.com/watch?v=mZNEtZI8r00
Seeing Leo Durocher on T.V. may not have been a rarity, but finding this advertising piece is. This is the only example we have ever come across and have not seen it since it was first offered by Legendary Auctions in June of 2011.  While the superb graphics and content make it ideal for any New York Giants fan, it also has very strong cross-over appeal for those that collect television and radio advertising.
Our plans are to have this tastefully framed for preservation and presentation and to pair it up with the aforementioned period original Sylvania advertising information (Sylvania News: January 1952, February 1952, and May 1952) to create a premium "Galley Offering" for advanced and sophisticated collectors. The Opening of the Gallery at the MEARS Museum is scheduled to open in 2017.  We will provide additional information on that effort as progress continues.
Dave Grob
davegrob1@aol.com