The San Francisco Bay Area has rich baseball history, and a long time touch stone has been the famous DiMaggio Brothers; Joe, Dom, and Vince. But the DiMaggio's are not the only Bay Area Baseball Brothers of the note…Enter the Brothers Alou.  While largely relegated to the answer of the trivia question about brothers appearing the same outfield, for the same team, at the same time (September 1963), individually and collectively the Alou boys were solid major league players in their own right as seen in this comparison with the DiMaggio's.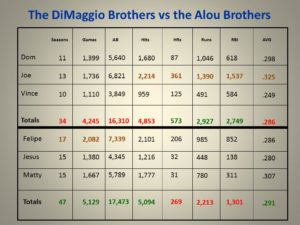 I am thrilled to add these uniforms to the San Francisco Giants display case at the MEARS Museum later this spring. But equally exciting to supplying wonderful artifacts for the San Francisco Giants museum display, these three uniforms also become invaluable assets to my evaluation exemplar library.
1: 1963 Matty Alou Road Jersey (Spalding)
2. 1964 Jesus Alou Home Jersey (McAuliffe)
3. 1961 Felipe Alou Road Jersey (MacGregor)
As a collection they provide:
*San Francisco Giants home and road samples
*Samples from three different manufacturers of the same period (MacGregor, Spalding, and McAuliffe)
*Samples from three different years (1961, 1963, and 1964)
*Samples in three different sizes (40, 42, and 44)
*Samples of numerals 1, 2, 3, and 4
These three uniforms are all original to include manufacturers' tagging and supplemental tagging for player, year, laundry instructions, etc. All of this becomes very important and is of great value to collectors submitting uniforms for evaluation of these players from the same period:
-Willie Mays #24
-Orlando Cepeda #30
-Willie McCovey #44
-Juan Marichal #27
-Gaylord Perry #28, #35, #36
-Duke Snider (91 games for the 1964 Giants) #28
I hope to get up to the MEARS Museum sometime in the next month or so to add these and some other rare and interesting artifacts to the team display cases for the Chicago Cubs, Chicago White Sox, Brooklyn Dodgers, New York Giants, Cincinnati Reds, and St. Louis Cardinals. With luck, they'll be installed for your next visit to what is quickly becoming a little slice of Cooperstown in the Midwest.
Dave Grob
Curator of Collections, MEARS Museum