Sports & Memorabilia Advisors LLC
Santino Bando
santinogroup@aol.com
414.239.0144
MEARS Auctions LLC
Troy Kinunen
troy@mearsonline.com
414.828.9990

1924 BABE RUTH AUTOGRAPHED FIRST HOME RUN BAT – COULD BECOME MOST EXPENSIVE PIECE OF MEMORABILIA EVER SOLD!
FOR IMMEDIATE RELEASE
Milwaukee, Wisconsin – MEARS Auctions LLC and Sports & Memorabilia Advisors LLC are pleased to announce the discovery of the most valuable Babe Ruth bat to be publicly offered.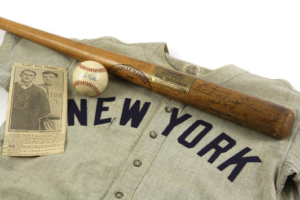 Arguably one of the world's most valuable sports memorabilia artifacts, this bat is estimated to be valued at more than the 1909 T206 Honus Wagner card ($3,120,000.00), and the 1920's Babe Ruth New York Yankees road jersey ($4,400,000) that sold in 2012.
This historic bat was used by Babe Ruth on April 20th, 1924 to hit his first home run of the season off Walter Johnson. The bat was then personally autographed by Babe Ruth and presented to Phil Grossman, the winner of a high school batting contest in Los Angeles, California. The entire history of the bat and contest is supported by period newspaper documentation and is matched with the only known uniformed photo of Ruth signing the actual game used bat.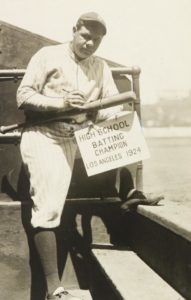 The vintage autograph and period inscription has been carefully examined by World Renown autograph expert Jimmy Spence. Baseball Bat expert John Taube of PSA/DNA assigned the bat a unique certification number, 1B07483 which is permanently registered in the company's database. Taube confidently notes, "In addition to the bat's unquestionable history, Ruth's autograph and dated inscription confirm the events outlined in the many articles that are included with the bat, further elevating its stature in the realm of his finest documented bats."  The bat is graded a perfect PSA GU 10.
Troy Kinunen of MEARS Auction states, "I would not be surprised if a collector offers a never seen before price for this historic masterpiece. Rarely, if ever, does an artifact of this caliber have the provenance and documentation that this bat has."
For more information, video, photographs and history of the bat, visit www.1924baberuthbat.com
Graphics supplied by Black Knight Publishing
www.blackknightpublishing.com