Contrary to recent events, voting and elections can be wonderful and exiting things. Consider the 1953 All Star Game if you will.  In 1953, the Cincinnati Reds and Crosley Field played host to the mid-summer classic.  Nothing pleases the sponsoring city like seeing a strong representation of the home town team, but the 1953 Redlegs were competing with the likes of Stan Musial, Eddie Mathews, Ralph Kiner and host of Brooklyn Dodgers for a spot on the roster.  So how did a city that routine drew less than 10,000 fans to a home game in 1953 manage to elect the top two vote getters in the National League and the #1 ballot baron overall?   Good old fashioned politics…Vote Early and Vote Often.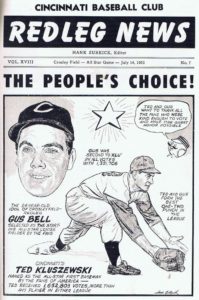 The MEARS Museum recently acquired this magnificent banner (roughly 8' x 3') from Ted Kluszewski Day, 25 June 1953.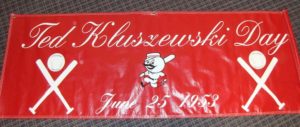 But if you check the Cincinnati Redleg's Yearbooks from 1953-1954, The Redleg News (1953), or The Sporting News (1953), you won't find any mention of any special day honoring Big Klu.  So if this day was not about the club or fans gathering to thank Kluszewski and present him with gifts of new tires, a television set, golf clubs, hunting dogs or any other number of things players typically received at this point in time, then what was Ted Kluszewski Day at Crosley Field on 25 June 1953 all about?  It was about getting out the vote.
Cincinnati during the 1950s was like most major cities in that it had various new papers with various publication times. The Cincinnati Enquirer was the morning paper and the Post-Times Star was the afternoon effort.  Equally interesting and important is that 25 June 1953 was an afternoon game at Crosley Field against the Brooklyn Dodgers.  So if you were going to read about the Redlegs before heading off to the corner of Findley and Western, you were going do it though it through the Cincinnati Enquirer. What is interesting to note is that in looking at the Cincinnati Enquirer for the month of June 1953, the paper is rather neutral in their partisan support for All Star Game voting for the hometown Redlegs… that is until 25 June 1953.  On page 24 of that days edition you will find a 1/3 page endorsement of Kluszewski and fans being encouraged to "Klu's Up There-Keep Him Flying" in the All Star Balloting. Coincidence with an upcoming day game at Crosley Field?  I think not.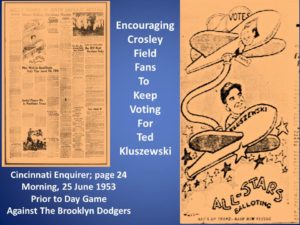 Well the special attention by the Cincinnati Enquirer and this campaign sign at Crosley Field must have worked. By July 2nd Big Klu was trailing Mickey Mantle by only 6,000 votes as the top vote getter.  Voting for the 1953 All Star Game closed on Friday July 4th.  By July 5th as votes were being tallied, Kluszewski had overtaken  Mantle 904, 527 to 901,984.  When it as all said and done and final numbers tabulated, Kluszewski emerged on top with 1,652,803 All Star Votes.
So who says Ohio is not a Red State?

MEARS Auth, LLC
davegrob1@aol.com