With trying to wrap up "Game Worn: Baseball Treasures from the Game's Greatest Heroes and Moments" for Smithsonian Publishing (due out in October),  I have not been able to devote as much time as I would like to the MEARS Museum… Until now. Let me tell you it as banner weekend for the MEARS Museum. Any number of changes were made to the displays and new or additional artifacts have been added to the various team exhibits.  The team theme is what we are going with for 2016, but even then, an annual theme deserves to be refreshed and updated.
Milwaukee Braves Display:  Added an early to mid-1950's game used block letter H&B bat of Solly Hemus.  Hemus was the first major league player to come to bat at Milwaukee County Stadium in 1953.  Also added to this case is a very nice example of the 1957 Rawlings Lew Burdette World Series Champions glove.
Cincinnati Reds Display: The Reds case was consolidated down to two windows as opposed to three.  New artifacts that were added include a 1941-1942 Ival Goodman Home jersey, 1954 Ted Kluszewski complete home uniform, and a 1969 Johhny Bench road jersey.
Chicago Baseball Display: The Cubs and the White Sox have been moved into the three window display previously occupied by the Cincinnati Reds.  This was done to account for the fact that at one time, we seem to have a number of items out on loan to the Reds Museum and combining the Cubs and White Sox is consistent with our Capital of Baseball Display (New York Yankees, New York Giants, and Brooklyn Dodgers).  Added here were:
*Large 1939-1945 Wrigley Field Banner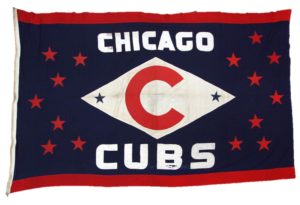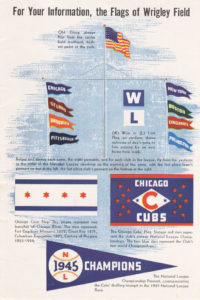 *Andy Frain Wrigley Field Ushers uniform with very rare 1930s cap.
*1945 Peanuts Lowery Chicago Cubs National League Championship ring.
*Phil Caveratta Wilson Ball Hawk model glove with original box.
*1930 Denby 5 cent cigar box with Charlie Grimm advertising
*1975 Cubs road jersey
*1943 White Sox home jersey
*1968 White Sox road jersey with Illinois Sesquicentennial patch
*Arch Ward travel suite case
*1978 White Sox road jersey
The Detroit Tigers Display:   Most of the adds here centered on the 1951 250th Anniversary of Detroit.  Added artifacts include a 1951 Tigers home jersey with patches for the 50th Anniversary of the American League as a well as the 250th Anniversary of Detroit, promotional and historic literature on the 250th Detroit Anniversary and 1951 All Star Game bat (Detroit) of Ewell Blackwell.  Also added to this case is an incredible 1925 Detroit Tigers home Jersey. Lastly, a 1994 Detroit Tigers ushers jacket.
Cleveland Indians Display: Massive stadium flag from 1949.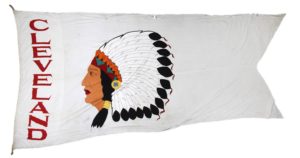 Pittsburgh Pirates Display: 1939 and 1946 Pittsburgh Pirates road jerseys.
Texas Baseball Display: 1974 Jeff Burroughs Texas Rangers game used cap (MVP season) and a 1970s Houston Astrodome vendors shirt.
Philadelphia Baseball Display: We have taken down the folded in Philadelphia Athletics items in the Phillies case for a single Philadelphia baseball effort.  New items here are a 1937 Phillies team sweater, 1949 Phillies road jersey, a 1960 Phillies/Connie Mack Stadium grounds crew shirt.
San Francisco Giants Display: With space freed up by the consolidation of Philadelphia baseball, we now have room for the Bay Area Giants that is anchored on a gorgeous 1960s Candlestick Stadium bunting.  Along with this are ten jerseys and jackets that span the early 1960s to mid-1980s.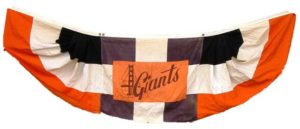 Capital of Baseball Display: (New York Yankees, Giants, and Brooklyn Dodgers):  1951 Leo Durocher New York Giants home jersey, 1954 "Say Hey" Willie 45rpm record, 1952 New York Yankees road jersey with Yankees 50th Anniversary patch, 1946 Yankees Scorecard (first year of the bat and top hat logo), Brooklyn Dodgers Youth baseball with original box, and a copy of the sheet music for Joltin Joe DiMaggio.
If you've been to the MEARS Museum in the past, we hope there are enough items to bring you back for another visit. If you haven't yet been to the facility, it's a great time to think about stopping by.  The next open house is set for early August and I suspect MEARS President Troy Kinunen will announce that date soon.

MEARS Auth, LLC
Curator of Collections
MEARS Museum
davegrob1@aol.com