During the comic book era known as the "Golden Age (1938-1954), the first issue of Captain America #1 debuted in March of 1941, created by writer Joe Simon and artist Jack Kirby for Timely Comics (later Marvel).
Hitler had invaded Poland in 1939 and war was sweeping Europe. America was bracing itself for when it would be asked to join the war. The escalating conflict offered comic book creators the perfect villain and need for a patriotic superhero.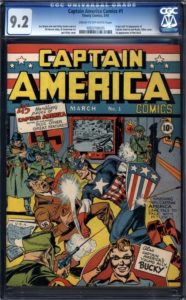 1941 was a historic year for both the Captain America comic book and the United States of America. By the time of the attack on Pearl Harbor in December of 1941, Captain America had become the publisher's top selling title. The proverbial villain, Hitler, became real, and Captain America epitomized the American spirit which would be called upon to fight the evil axis of Germany, Japan, and Italy.

As Stan Lee stated on the History Channel Documentary Comic Book Superheroes: Unmasked (2003), "We were fighting Hitler before our government." The cover art of issue #1 depicted Captain America punching Hitler in the face, as the Nazi threat was beginning to creep into our collective conscience.



Within the page of Captain America #1, Timely comics announced the creation of "The Sentinels of Liberty" fan club; eager young readers could join for just a dime,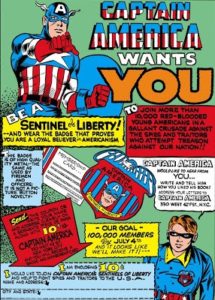 which entitled them to a membership card and a metal badge. The club proved so popular that its badge promotion had to be discontinued because of wartime metal rationing.
Young collectors could either clip the entry form from the bottom of the comic page, or print your name and address on paper and mail to the listed address, while including 10 cents. Once your registration form was received, the folks at Timely Comics mailed you a postcard to acknowledge its receipt. At the time of the writing and according to the research of Ted Hake and the staff of MEARS, only one surviving example of the postcard is known.



On July 14th, 2016, pop culture auction house "Hake Americana" offered the sole surviving example as lot #2192. There description read:
"This 3.25" x 5.5″ postcard issued to welcome new members to the club that begin in 1941. Front of the postcard features portrait image of Captain America over his stars and stripes shield and has simulated handwriting from the Captain reading "Dear Sentinel; I Want to Congratulate You On Becoming a Member of the Sentinels of Liberty. Bucky and I Welcome Your Letters Telling Us How You Like Our Book and Which Stories You Liked the Best. Please Write Us So That We Can Give You the Type of Stories You Like Best, Your Pal, Captain America (And Bucky).
Reverse of the postcard has "CAPTAIN AMERICA, 330 W. 42nd Street, New York City, N.Y." return address and typed recipient name/address, "Carol Von Hake, 121 W. Louden St., Olney, Phila., Pa.". Postally issued, postcard has "May 13, 1941 New York, NY postmark". Moderate handling creases, including one across Cap's face. Opposite side has .75″ spot of tape staining that does not affect image/text side. VG/Fine.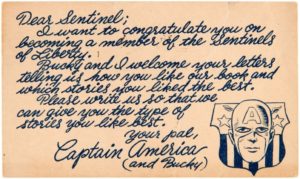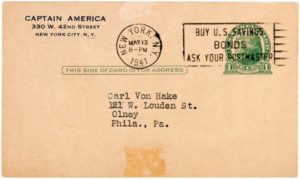 This club also issued a brass badge and red/white/blue membership card (not included with this lot). The badge is scarce and the card is rare, but both pale in rarity to this piece, which is the only example we know of. A must have for any serious Marvel/Timely collection."
Outside of the first yearly issue of the actual comic book, this is the earliest piece of Captain America memorabilia known to exist.
After spirited bidding, we were able to add this to the MEARS Pop Culture Museum collection. This item is schedule to be displayed as part of a super hero exhibit.  Exact date to be announced.