During the 1947 major league season, some 5,587,256 fans took in games in New York (Yankees – 2,178,937; Dodgers – 1,807,526; Giants – 1,600,793). It was the summer of Jackie Robinson and Joe DiMaggio, with each team bringing home a championship ring.  But what about the Giants and the happenings at the Polo Grounds?  Probably one of the best and most overlooked stories in baseball history.
True, the 1947 Giants finished in 4th place and some thirteen games out of contention, but this was hardly a weak hitting ball club.  As a matter of fact, nothing could have been further from the truth.  When it was all said and done, the Giants clubbed a major league record 221 home runs.  How did they fare against the rest of the senior circuit?
New York Giants 221
Pittsburgh Pirates 156
St. Louis Cardinals 115
Cincinnati Reds 95
Boston Braves 85
Brooklyn Dodgers 83
Chicago Cubs 71
Philadelphia Phillies 60
By comparison, 221 homes runs was a staggering number compared to the rest of the league. Even the vaulted Bronx Bombers across the Harlem River only posted 115 long balls for the 1947 campaign.
While "The Big Cat" Johnny Mize had a career season, so did a number of his team mates with sixteen players making home run contributions:
Johnny Mize 51
Willard Marshall 36
Walker Cooper 35
Bobby Thomson 29
Bill Rigney 17
Sid Gordon 13
Jack Lohrke 11
Buddy Kehr 7
Gary Gearhart 6
Ernie Lombardi 4
Clint Hartung 4
Mickey Witek 3
Joe Lafta 2
Bobby Rhawn 1
Ray Poat 1
Mort Cooper 1
While the Giants would not garner the post season money or hardware that the Yankees or Dodgers did, team owner Horace Stoneham had wonderful rings commissioned for his players to mark their achievement. Considering these rings were given to all players, coaches, and some front office personnel, it's amazing how few of these gorgeous artifacts have shown up on the secondary market.  In addition to the Gene "Junior" Thompson ring that was donated to the National Hall of Fame and Museum in 2009, this is what I can find records of:
-Johnny Mize
-Non-Named Example
-Bill Rigney (MEARS MUSEUM COLLECTION)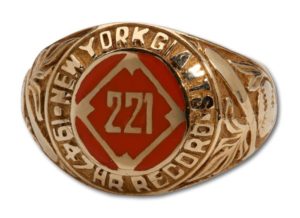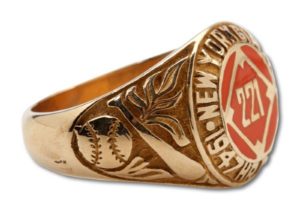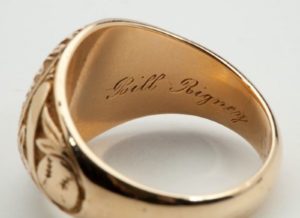 This is a smaller number than those that have appeared on the market from either the Dodgers or the Yankees:

Brooklyn Dodgers:
-Leo Durocher
-Ray Blades
-Buzzie Bavasi
-Fresco Thompson
-George Sisler
-Spencer Harris
-Various unnamed examples (in fact, there is one on E-Bay right now)
New York Yankees:
Red Corridon
Bill Bevins
Allie Clark
Paul Kirchell

While there are a few serious ring collectors out there, many folks tend to shy away from rings. Over the years I have heard these offered as reasons:
-Too expensive.
-Too small and they don't lend themselves to display with game used stuff.
My feelings on this subject are just the opposite.
-Reasonable priced for what they are; that being an artifact that is made of a precious metal and may contain a precise or semi-precise stone. These are things that will always have value.  Also, have you looked at the price of PSA graded cards lately, and these cards exist in the thousands.
-Just the right size to augment a team or player display, especially when you have a nice companion display graphic made (if you can use PowerPoint, you can have these done at FEDEX-Kinkos on mat board for under $30).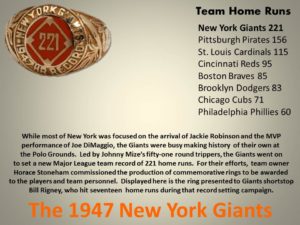 So give it some thought. Why not rings? While you're at it, as you reflect on New York as "The Capital of Baseball" from 1947-1957, just remember one little thing – The New York Giants and their 221 Home Run Ring.

MEARS Auth, LLC
davegrob1@aol.com