1972-81 Muhammad Ali EVERLAST Deer Lake Training Worn Trunks – Foreman, Frazier, Norton, Spinks era (MEARS LOA)

With great sadness, the Champ is gone. His feats will never be forgotten. This lot serves as a testament to the life and career of Muhammad Ali.
After his 1971 loss to Joe Frazier, the first of his career, Muhammad Ali was determined to regain the heavyweight crown. A rematch again Frazier was eminent, and sponsors fought to gain Ali's attention. Already a supporter of Everlast products, during 1972 the company created the first "Made Expressly for Muhammad Ali" line of trunks, gloves, and robes. Ali was the second Everlast endorsee to have his own product line, Joe Louis was he first.
The "Made Expressly for Muhammad Ali" trunks were worn by Ali at his Deer Lake Training camp. There in the hills of Pennsylvania he trained for his fights against Foreman, Norton, Frazier, Spinks, and numerous other Heavy Weight matches. He moved to Deer Lake in 1970 when he returned to the ring following his forced hiatus when the Government stripped him of his heavyweight championship for refusing induction into the military.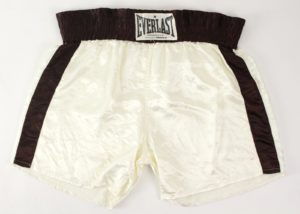 Available images show him wearing Everlast trunks to prepare for fights against Foreman, Frazier, Norton, Spinks, and many other important bouts from the 1970s. The white satin trunks with black trim were his hallmark, and many images support the champ wearing these very style trunks.
These trunks show moderate but distinct wear. Sourced from a maintenance worker that provided landscaping duties to the property.
LOA Troy R. Kinunen / MEARS