1935 Reemtsma Vom Werden Deutscher Filmkunst, Der Stumme Film
After weeks of painstaking research and time spent cataloging, I successfully submitted my work to Troy Kirk for inclusion in his movie star card website. After he critiqued my work, he agreed with its accuracy and officially recognized this set. By adding the set, professional grading companies such as PSA will recognize these cards and make them candidates for slabbing and grading. The set is very important to horror fans as it features on of the genre's most iconic monsters, Nosferatu.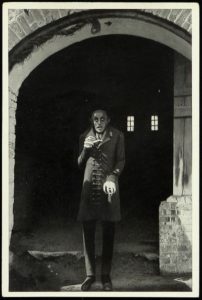 a 1922 German Expressionist horror film, directed by F. W. Murnau, starring Max Schreck as the vampire Count Orlok. The film, shot in 1921 and released in 1922, was an unauthorized adaptation of Bram Stoker's Dracula (1897). Various names and other details were changed from the novel: for instance, "vampire" became "Nosferatu" and "Count Dracula" became "Count Orlok". This is the only period card issued of Nosferatu, and even its debut was 13 years after the films release. Nosferatu was played by German actor Max Schreck. Nosferatu pre-dated more main stream horror monsters such as Frankenstein, Dracula, and the Mummy, and deserves a prominent place of respect in the annuals of monster movies.
This set title translates to "The Making of German Cinematic Art, The Silent Film." There is also a separate set devoted to sound films. An album was issued with this set (Reemtsma album #10).
This set was issued in a series of 5 folders, two with cards measuring 5"x7", and three with cards measuring 3 ¼" x 4 ¾". The cards appear with the same assortment in each folder. The set inventory which consisted of the cards numbers were printed on each folder in orange type. 250 cards total in the set.
Offered to fans of the set was a 136-page paper bound book for which the cards were to be pasted. The front cover is ornate with gold embossing. A full color photo (4"x5") was applied at the factory on the book's cover and can be found with several variations of cover choice. The page layout provided a detailed background biography of the movie and stars.
For horror lovers, Max Schreck, the star of "Nosferatu", appears in the set as card #133. Fans of the movie "Metropolis" will find card #137, Alfred Abel and Rudolf Klein-Rogge and card #190, Brigitte Helm of interest. The checklist includes:
1935 Cigaretten-Bilderdienst
Issuer: Cigaretten-Bilderdienst
Size: Size: 3 ¼" x 4 ¾" and 5"x7"
Series (5)

Bilder – Gruppe 39 (50 cards)
Size: 3 ¼" x 4 ¾"
2 Max Pallenberg
4 Albert Bassermann
9 Paul Wegener and Lyda Salmonova
11 Henny Porten
19 Ludwig Trautmann
22 Hella Moja
26 Ellen Richter and Hans Adalbert Schlettow
28 Bernd Aldor
32 Werner Krauss and Georg John
37 Arnold Rieck
41 Harry Liedtke and Pola Negri
44 Henny Porten
48 Max Landa and Leopoldine Konstantin
53 Reinhold Schunzel and Lilly Flohr
56 Mia May and Johannes Riemann
63 Lil Dagover and Carl de Vogt
69 Werner Krauss
70 Ria Jende and Rudolf Basil
76 Bismarck
79 Albert Paulig, Willy Fritsch, and Valeria Boothby
86 Paul Wegener and Lyda Salmonova
89 Lil Dagover and Bernhard Goetzke
95 Hans Mierendorff and Maria Fein
98 Asta Nielsen and Conrad Veidt
102 Henny Porten, Wilhelm Dieterle, and Fritz Kortner
105 Theodor Loos
110 Hans Albers
114 Maria Matray
117 Ossi Oswalda and Hermann Thimig
118 Henny Porten and Ralph Arthur Roberts
125 Henny Porten
128 Harry Piel
133 Max Schreck
137 Alfred Abel and Rudolf Klein-Rogge
142 Heinrich George and Brigitte Helm
145 Gustav Frohlich
149 Anne Boleyn
152 Gustav Frohlich and Lars Hanson
156 Milak, The Greenland Hunter
159 Secrets of the Orient
163 The camera slide technique
165 Secrets of the Soul
172 Henny Porten
175 Mady Christians and Georg Alexander
177 Reinhold Schunzel
182 Ossi Oswalda
187 Jenny Jugo
190 Brigitte Helm
193 Gerhard Ritterband
197 Adele Sandrock and Carola Loelle

Bilder-Gruppe 40 (50 cards)
Size: 5"x 7"

10 Pola Negri
12 Emil Jannings and Henny Porten
30 Bruno Decarli and Harry Liedtke
35 Pola Negri and Emil Jannings
42 Asta Nielsen, Bruno Kastner, and Max Landa
55 Mia May
58 Emil Jannings and Pola Negri
62 Mia May
67 Pola Negri
71 Liane Haid and Albert Bassermann
80 Rudolf Klein-Rogge
83 Pola Negri and Alfred Abel
91 Lil Dagover and Paul Hartmann
94 Yvette Guilbert and Emil Jannings
106 William Dieterle and Lien Deyers
115 Mady Christians and  Willy Fritsch
122 Pola Negri
130 Leni Riefenstahl
138 Willy Fritsch, Gerda Maurus, and Gustl Gstettenbaur
151 Paul Richter
164 Ossi Oswalda
168 Conrad Veidt
180 The Golem
186 Anny Ondra
194 Werner Krauss


Bilder-Gruppe 41 (50 cards)
Size: 3 ¼" x 4 ¾"

1 Eugen Gladanowsky
3 Frieda Richard and Ernst Ruckert
8 Asta Nielsen
15 Olaf Fontz
21 Ernst Hofmann
24 Lotte Neumann
25 Gertrude Welcker and Curt Goetz
31 Conrad Veidt
33 Erich Kaiser-Titz
36 Pola Negri and Harry Liedtke
39 Leo Peukert
43 Eduard von Winterstein, Rosa Porten, and Reinhold Schunzel
47 Ernst Reicher
49 Hans Mierendorff
54 Gertrude Welcker
61 Pola Negri and Harry Liedtke
66 Ellen Richter, Anton Pointner, and Hans Brausewetter
72 Lya de Putti and Vladimir Gajdarov
75 Otto Gebuhr
78 Eugene Moebius
82 Hanna Ralph and Emil Jannings
88 Wilhelm Diegelmann, Eva May, and Max Gulstorff
93 Emil Jannings
97 Fritz Greiner and Erna Morena
101 Werner Krauss and Edith Posca
104 Emil Jannings
108 Eva May and Paul Hartmann
112 Brigitte Helm and Franz Lederer
116 Xenia Desni and Harry Liedtke
121 Elga Brink and Harry Liedtke
124 Rudolf Klein-Rogge and Gerda Maurus
129 The Man on the Comet
134 Paul Wegener and Lyda Salmonova
136 Werner Krauss and Ruth Weyher
140 Small extension in the glass house
141 Thea von Harbou
144 Karl Grune
148 My Leopold
155 Milak, The Greenland Hunter
157 Die Nacht Der Sieben Gunden
161 The camera on rails
166 Mia May and Bernhard Goetzke
171 Gosta Ekman
174 Fern Andra
178 Curt Bois and Rina Marsa
181 Asta Nielsen
185 Lilian Harvey
189 Lil Dagover
195 Aud Egede-Nissen and Sophie Pagay
196 Freida Richard and Lotte Neumann

Bilder-Grupper 42 (50 Cards)
Size: 5" x 7"

5 Asta Nielsen
14 Gudren Houlberg and Valdemar Psilander
17 Mia May
27 Fern Andra
40 Albert Paulig
51 Conrad Veidt and Erna Morena
57 Marga von Kierska and Theodor Becker
60 Emil Jannings and Pola Negri
65 Conrad Veidt and Mia May
68 Henny Porten and Emil Jannings
74 Mady Christians and Charles Vanel
84 Lil Dagover and Emil Jannings
85 Rina de Liguoro and Ivan Mosjoukine
92 Hans Albers
100 Henny Porten
109 Marlene Dietrich and Ernst Stahl-Nachbaur
120 Lucie Hoflich, Mady Christians, and Helga Thomas
127 Harry Piel
132 Ways to Strength and Beauty
147 Casanova
154 Lil Dagover
167 Henny Porten
170 Gosta Ekman
183 Camilla Horn and Gosta Ekman
191 Brigitte Helm

Bilder-Grupper 43 (50 Cards)
Size: 3 ¼" x 4 ¾"

6 Asta Nielsen
7 Asta Nielsen
13 Henny Porten and Rudolf Biebrach
16 Viggo Larsen
18 Hanni Weisse
20 Wanda Treumann
23 Maria Carmi and Carl de Vogt
29 Emil Jannings
34 Pola Negri and Fritz Schulz
38 Paul Westermeier, Hans Albers, Hanne Brinkmann
45 Bruno Kastner and Dorrit Weixler
46 Ossi Oswalda
50 Carl Auen
52 Erika Glassner
59 Harry Liedtke and Pola Negri
64 Harry Liedtke, George Alexander
73 Otto Gebuhr
77 Adolf Klein
81 Henny Porten and Paul Hartmann
87 Paul Wegener, Albert Steinrück, Ernst Deutsch
90 Rudolf Klein-Rogge and Lucie Mannheim
96 Paul Hartmann and Lil Dagover
99 Fritz Kortner and Olga Tschechowa
103 Eugen Klopfer and Aud Egede-Nissen
107 Dita Parlo and Lars Hanson
111 Lil Dagover and Willy Fritsch
113 Paul Hartmann
119 Henny Porten and Emil Jannings
123 Lillian Harvey and Hans Junkermann
126 Harry Piel
131 not issued
135 Anita Dorris and Paul Wegener
139 The Old Glass House of the Eiko Film Studio
143 Heinrich George
146 Hungarian Rhapsody
150 "…und wie er spater im film aussah"
153 The Holy Mountain
158 The lighting in the studio
160 The Last Laugh
162 The "Unchained Camera Technique"
169 Fritz Ralph
173 Willy Fritsch
176 Ossi Oswalda and Rudolf Forster
179 Pola Negri
184 Dina Gralla
188 Carola Loelle
192 Lilian Harvey
198 Margarete Kupfer
199 Werner Fuetterer and Hans Junkermann
200 His Late Excellency

The cards have been cataloged and entered into the hobby's number one source for non sport movie star cards, www.moviestarcards.com which is professionally ran by Troy Kirk.