Leo "The Lip" Durocher may have talked a lot trash and exercised morals that some found fitting for the gutter, but he didn't deserve to end up in a dumpster. In April of 2016, Robert Edwards Auctions offered a collection of uniforms that were obtained from the trash, after being discarded with the closing of Al Schacht's New York restaurant in the 1960s.  Among the treasures of this most epic of dumpster dives was a 1951 Leo Durocher New York Giants home uniform.  I knew it needed to be saved and brought back to life, and I also knew that in conjunction with the MEARS Museum, I wanted to be the person to do.  Some $10,600 later and the project has begun.
The auction lot photography more than managed my expectations as to what I would be dealing with.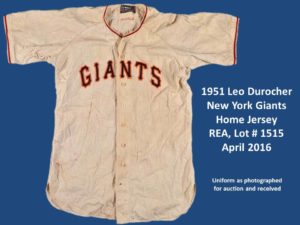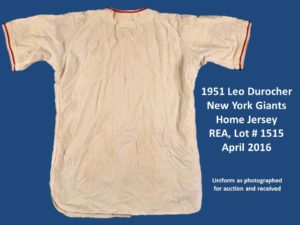 Once I received the jersey, I was all set to begin the restoration and conservation efforts.  Phase I of the effort has involved:
-Restoration of a period original 1951 National League 75th patch.  While a daunting task in its own right given the absolute rarity of this patch, I have had one on hand for some time, just looking for the right candidate.
-Restoration of the buttons. While the jersey contained six of the seven original MacGregor-Goldsmith buttons, their condition varied and a number of them had been damaged through repeated heat pressing.  Once again, I had period original MacGregor-Goldsmith home buttons that were more than equal to the task.


-Restoration of missing tie down strap. Although not listed or mentioned in the original auction description, the Durocher jersey features custom sewn eyelets in the front and back tail as well as set of rough cut holes at the bottom of the button line to accommodate use of the tie down.  If you ever seen footage of Durocher after Bobby Thomson 1951 playoff home run and wondered how Loe's jersey remained completely tucked in after being accosted by Eddie Stanky, now you know how and why.
-Conservation work on some of the lettering across the front. This would involve stabling portions of the athletic felt that had separated from the stitch lines.
-A light professional conservation cleaning. The purpose of the cleaning was not so much to remove stains, but to clean the fabric to prevent any deterioration of the fabric body or the onset of foxing.  Foxing is a term used to describe a type of staining that appears as rust-like spots and is typically caused by fungus or mildew spores growing on or in the fabric.
-Stabilization of a small fabric tear in the rear tail of the jersey; between the two eyelets for the tie down.
Above I mentioned above, these are the Phase I efforts.

Phase II, while much simpler, will require a bit more time as this will involve restoring the rear #2 with a period original offering.  First a suitable and reasonable candidate has to be found (New York Giants MacGregor-Goldsmith product).  The donor must also be feasible as I don't see taking the number off a jersey worn by Willie Mays (24), Monte Irvin (20), or even another Leo Durocher (2) jersey to complete this work.
I have never had any issues collecting or owning vintage major league baseball uniforms that feature repairs, team name/number changes, or even those that have been restored. Part of this is due to the fact that my collection is, by and large, a functional reference library to support my personal and professional research on the subject.  As such, every uniform I acquire serves some purpose (style, fabric, size, tagging, and even for parts).   The other reason that these "less than 100% all original" jerseys are not anathema to me is that I tend to think of vintage major league baseball uniforms in a different context as compared the hobby/industry in general.
Before going into this topic in detail, let me set the stage for where I'm coming from. Collecting major league uniforms took off as a hobby in the wake of the card collecting.  Baseball cards are prized and valued to a large degree based on condition.  An entire industry of card grading grew out of this and it has had a significant influence on the concept of assigning a numerical grade to uniforms.  With respect to uniforms, there are in fact provisions that account for the fact that a used jersey is preferred to one with no use or in pristine condition, or a "mint pack fresh blazer" if you will.
With all this being said, I still see many advanced collectors who continue to wrestle with trying to apply the card mentality to uniforms. This is a shame as they are looking for something they will never find as they are looking at uniforms in the wrong context.  Enter the automobile. I have always felt that the strongest near-peer parallel in the collecting world for vintage baseball uniforms is vintage cars as opposed to cards.
Cards were meant to be collectables and where never intended to serve any utilitarian purpose. They were massed produced as something to be saved.  Not so with cars or baseball uniforms.  Both cars and uniforms were manufactured for use.  Over their anticipated life spans, it was logical that they would require care, attention, repairs, and even alterations to make them more desirable/useful to their current owner.  At times, both uniforms and cars could have been expected to have more than owner or user in a desire to get as much use out them as possible.
Because of their size and the fact that they were intended as collectables, cards were saved and retained at rates that exceeds comparably aged cars and uniforms. To help make my point, when was the last time that either the car or uniform collecting hobby/industry heard of dozens of early 20
th
century offerings being found inside a wall, floor, or in unopened/unissued condition.  When a single early or significant car or uniform is found to have survived, it's huge news across those communities.
The fact of the matter is that there is not a single surviving example of every style of uniform from every team from every year.   The same can be said for individual players as well.  When uniforms of low density Hall of Fame players or even rare styles show up with changes, alterations, or restorations, all too frequently hear "if only it was in all original condition."  These same collectors, even advanced ones, will often remark how they will pass and wait for a better example to surface.  This is something I attribute to the "card collecting" mentality where options often exist in the hundreds or even thousands.  Even the Holy Grail of card collecting, the Honus Wagner T-206 exists in the dozens.
Card collectors, for the most part, reject improvement to the condition of the card since condition largely determines value. As such, these card improvements are viewed as artificial changes that impact value; value relative to a much larger population size.   The card however has no personal connection to the player or the game other than it may contain the player's likeness, so condition remains paramount.  Not so with the jersey, because if it is an authentic artifact, lesser condition can never change the fact that the player in question actually wore it.
Everyone collector has their own preferences with respect to what they want to collect and why. This is not a knock on those that prefer to cards to uniforms.  My hope for this article is that is begins to change perceptions for those that collect vintage baseball uniforms or wish to begin collecting them.  By viewing vintage baseball uniforms more along the lines of vintage cars as opposed to cards, I feel these often rare artifacts are better seen, judged, and appreciated in a more accurate context.
In April of 1947, Leo Durocher's picture appeared on the cover of Time Magazine. Below his picture was an excerpt from the article where Leo was quoted as saying "I don't want any nice guys on my ball club."  This quote by Durocher quickly and erroneously morphed into the often attributed Durocher quote that "nice guys finish last".  Leo didn't mind his players being rough around the edges…Maybe if was a uniform or vintage car collector today he'd feel the same way as he was always able to see value and get value out of things others might have passed on.
As always, collect what you enjoy and enjoy what you collect.
MEARS Auth, LLC
davegrob1@aol.com