While General Managers have been busy making deals for players, the MEARS Museum continues to make deals for artifacts and memorabilia to share with the collecting public. Being just a very short drive from the Windy City, Chicago related baseball items remain some of the most popular in the MEARS Museum Collection. We are thrilled to report these recent fine additions for your viewing enjoyment and we hope to have them all installed by Opening Day 2017.

1968 Glenn Beckert Chicago Cubs Home Jersey: All the focus on the 2016 World Champion Cubs has brought resurgence in interest in teams past.  One of the most popular teams of all time remains the 1969 ball club.  Beckert won his only Gold Glove Award in 1968 and was a four time National League All Star from 1969-1972.  This particular jersey features the rare and popular Illinois sesquicentennial patch.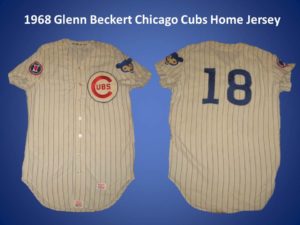 1945 Wrigley Field Night Baseball Sign: Night baseball in Wrigley Field in 1945?  Well, according to the major league baseball rules of the time, any game starting after 6:00pm was considered a night game.  The Cubs actually played their first twilight "Night Game" against the St. Louis Cardinals in 1943.  Baseball Reference.com shows that in 1945, the Cubs played these of these early nocturnal contests:
Sunday, May 27th
Friday, September 7th
Wednesday, September 12th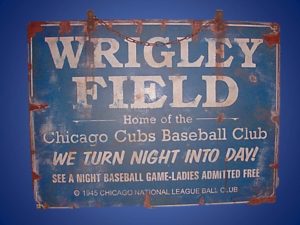 1930s Chicago Cubs Brand Chewing Tobacco Tin: The Rock City Tobacco Company (Quebec, Canada) produced any number of attractive tobacco tins during the early and mid-20th century.  They produced at least three for the Chicago Cubs brand of chewing tobacco.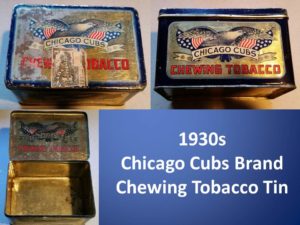 1940 Ted Lyons Presentational Blanket: To say that Chicago White Sox fans loved Ted Lyons is an understatement of the grandest order.   As testimony to this, there is a wonderful article on page 5 of the 15 September 1940 edition of The Chicago Tribune titled "It's Ted Lyons Day Today: Fans Reward 18 Years of Service." The article recounts how dimes were collected for weeks from White Sox fans so they could present their hero with any number of gifts.  These tokens of appreciation included a car, hunting and fishing equipment, a radio, golf clubs, cash, gasoline cards, and as the article specifically notes, "a monogramed blanket of royal blue with the number "16" in the center surrounded by a circle of 18 stars, one for each year he has been with the team." 
This game was the first of a Sunday double-header against the visiting Red Sox. Because of arm trouble, Lyons had become a one day a week pitcher by this point in his career, and typically on Sundays when the crowds were at their peak (hence his nickname; Sunday Teddy).  On this special occasion, Lyons acknowledged the fans with a three hit (two by Ted Williams) 5-1 complete game victory (#233 of 260).
Although he retired in 1946 (Elected to the National Baseball Hall of Fame in 1955), Ted Lyons remains to this day the Chicago White Sox all-time pitching leader in:
Wins: 260
Innings Pitched: 4,161
Games Started: 484
Complete Games: 356
Batters Faced: 17,797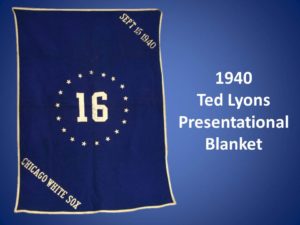 MEARS Auth, LLC
Curator of Collections
The MEARS Museum