The New York Yankees "Top Hat and Bat" logo is one of the most iconic corporate brand images in history. There is very little doubt about when it first appeared and who the design is attributed to (1946-Lon Keller).  But where did the idea come from?  In the past I have found references linking Keller's design to the World War I "Hat in the Ring" squadron made famous by Eddie Rickenbacker.  I for one have never felt that the 1946 reference had to go back more than 20 years, and then suddenly reappear with a major league club.
Recently the MEARS Museum acquired a rare piece of stadia (one of two known examples) in the form of a New York Yankees garrison/overseas style cap. This style cap has been offered publicly twice: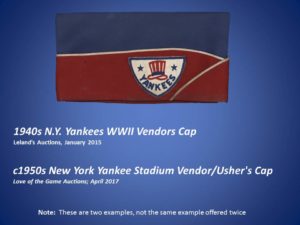 -1940s N.Y. Yankees WWII Vendors Cap; Leland's Auctions, January 2015
-c1950s New York Yankee Stadium Vendor/Usher's Cap Love of the Game Auctions; April 2017

With respect to these descriptions, I think Lelands got the time frame right, but it is neither a vendor's or usher's cap as confirmed by period images. If not a vendor's or usher's cap, then what is it?  I believe the cap belonged to members of the Yankee Stadium Grounds crew.  Although not the same style cap, images do exist from at least 1947 that appear to confirm this.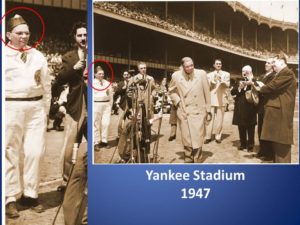 You will see the same thing on page 14 of Summer in the City: New York Baseball 1947-1957 in the form of three members of the Yankee Stadium Grounds crew in coveralls on Opening Day 1947.  That being said, I am comfortable describing our latest cap acquisition as a c1943-1945 Yankee Stadium Grounds Crew cap. Still the question remains, where did the Top Hat and Bat logo come from?
It's my theory that the logo was an adaptation of the one already used on this garrison/overseas cap and other contemporary references. The "Yankee" name if you will had already been linked to cigars with a patriotic Top Hat as well as the 1942 movie Yankee Doodle Dandy starting James Cagney.  We know that the Cagney movie was popular as evidence by the naming convention on at least one B-17 bomber.  (Maybe it's just me, but I can see how you could turn the cane/baton on the nose art bomber logo into a bat). Lon Keller was a very successful commercial artist and it is not far-fetched to presume he was familiar with these contemporary references, either in part or in total. I find it very plausible to theorize that it was these contemporary references, combined with the New York Yankee's recent previous use of a version of the logo that led to final design that appeared on the 1946 scorecard.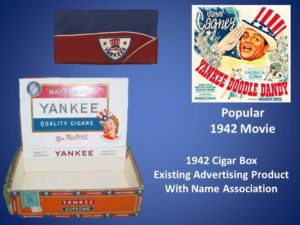 Please know that none of this meant to denigrate the work or history of Lon Keller. In all my research on this topic, I found nothing that indicated that Keller ever claimed to have invented this logo out of thin air or anything else for that matter that indicated what his source of inspiration was for the design. The purpose of this article is to share information and artifacts as well as provide food for thought for further research on the part of collectors. This is what the MEARS Museum is all about.

MEARS Auth, LLC
Curator of Collections, MEARS Museum