Throwback games with retro uniforms are extremely popular (unless you're Chris Sales). This past weekend the St. Louis Cardinals trotted out their 1956 home uniforms while the Dodgers sported Brooklyn caps.  The 1956 St. Louis uniforms were a one year style and it is easy to see where the Cardinals got the idea to bring them back-they are striking and gorgeous.  But where did the original idea for these jerseys come from in 1956?  Enter the "prototype."
The words "salesman sample" and "prototype" have been bantered around the hobby for decades, almost as if they were synonymous.  They are not.
Prototype: Uniform design or product developed to provide a physical reference for potential changes in design or manufacturer of a uniform.  
Salesman Sample: Term used to describe a uniform or uniform related product that was manufactured and or distributed to create awareness or interest in a particular manufacturers uniform line. 
The 1956 St. Louis Cardinals uniforms were a radical departure from what had been worn in years past in that they did not feature the iconic "Birds on the Bat". The MEARS Museum Collection includes a couple of uniforms related to this effort (prototype road jersey and an actual 1956 road jersey) so I thought it might be the right time to share some of this information.  As you can see from the accompanying graphics, a lot of thought and effort went into this radical change, to include player comfort which is something Chris Sales would appreciate.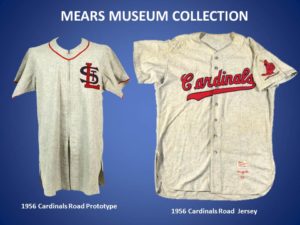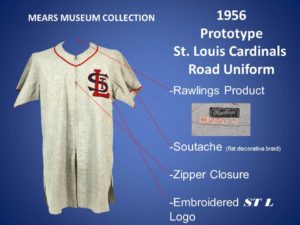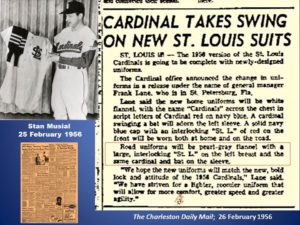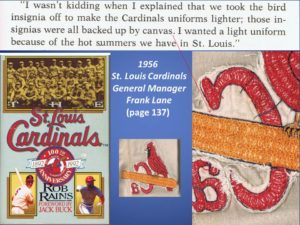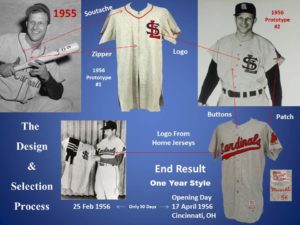 What's interesting to note is that despite all the work that went into this design/redesign effort, the Cardinals opted to go with the same design for the road uniforms as they did for the home offerings. While I have yet to find any stated reason for this, it may have had something to do with the fact that Cardinals opened the 1956 season on the road in Cincinnati on 17 April.  Since the road uniforms were to feature an embroidered chest logo as opposed to cut and sewn athletic felt "Cardinals,"  it may have been simply quicker, easier, and cheaper to stick with a common design in order to meet this early road date.  Remember that major league uniforms of this period were measured for and made to order as part of the later stages of spring training when the ball club had a reasonable idea of was likely or expected to make to major league roster.
So there you have it Eric Caudill… retro Cardinals garb from concept to implementation, to throwback. I hope this article was more enjoyable than your plane travel this past weekend.
As always, collect what you enjoy and enjoy what you collect.

MEARS Auth, LLC
davegrob1@aol.com